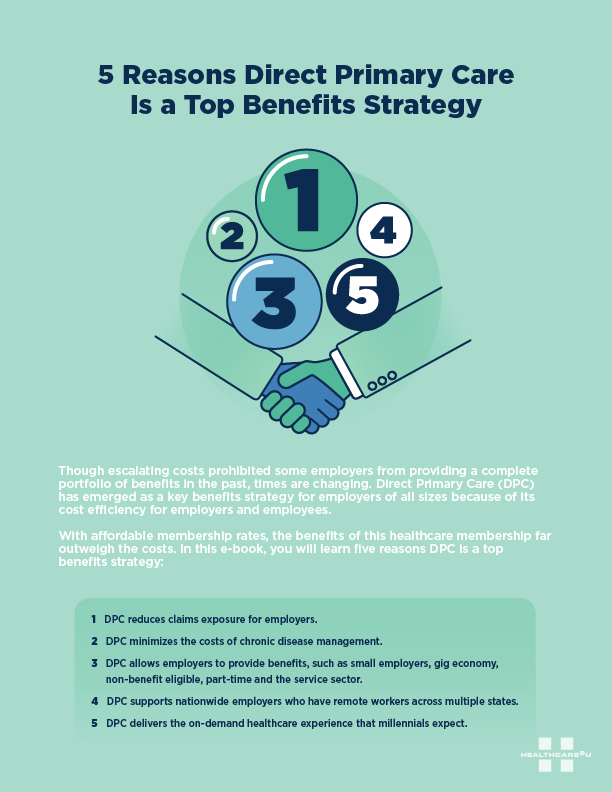 Downloadable eBook
5 Reasons Direct Primary Care is a Top Benefits Strategy
What's Inside?
There are significant hurdles facing employers who want to provide meaningful benefits to their growing workforce. There's a great deal of buzz surrounding cost-containment strategies, but you can't create real solutions without examining these hurdles and customizing plans based on the needs of individual clients.
Direct primary care (DPC) addresses many of the pain points employers are currently experiencing. From escalating costs to geographic barriers, traditional healthcare options have left much to be desired. Here we'll examine five reasons DPC has become an option that employers and their employees don't want to live without.
In this eBook you will learn how DPC:
Reduces claims exposure for employers




Minimizes the cost of chronic disease management

Allows employers of all types to provide benefits to their employees

Supports nationwide employers with remote employees across state lines

Delivers on-demand healthcare that millennials want
About Healthcare2U
Healthcare2U is the nation's largest hybrid, integrated Direct Primary Care (DPC) organization. We ensure organizations of all sizes and structures have nationwide access to affordable, consistent, and quality primary care 40% below the average cost of traditional DPC practices operating in the market today. Through our proprietary Private Physician Network (PPN)™, Healthcare2U promotes healthy living by detecting, treating, and managing acute and chronic conditions before the onset of serious illness.